Meet the team – Sylwia Stepien
Categorised in: Company news | Posted on: 9 March 2021

9th March 2021

This week, to celebrate "International Women's Day", we're meeting some of the wonderful women that work here at C&L. Today we meet Sylwia.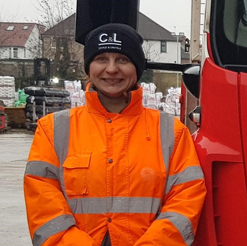 Job Title: LGV Driver
Location: South East Lintels Hub
Length of Service: Started in 2020
What made you decide to become a driver?
Initially I got my lorry driver license privately to allow me to transport my horses to competitions. I used to work in restaurants, but I wanted a change in career and it seemed like a good idea to become a driver as I love driving and I thought it would be something I would really enjoy.
How long have you been a HGV Driver?
It is 5 years now and it's gone very quick! Every day is different!
Being a driver involves lots of time on your own, how do you keep your mind occupied?
I like to keep myself to myself and I am writing books around crime stories in my spare time and it helps me imagine the characters and develop the plots while I drive which helps my imagination that I can apply to my books later.
What are the best bits about being a driver?
I love the feeling of driving a lorry, the bigger the lorry the better the feeling. It's very different to driving a car. C&L have been amazing, I get to do mostly long runs, which I love, I get to see a lot of the countryside. Everyday is different, different sites and I get to meet different people, it keeps it really interesting for me.
What skills have you learned from your role?
Mostly focusing on the roads. I have been driving for about 5 years before doing my lorry license and I never paid as much attention to little details of the road. When you are on a big truck you pay more attention to little things, and your observation skill improves so much more and its something that I can take with me. I have become more aware.
What advice would you give to someone who may want a career in driving?
Give it a go, it's worth it, it's a fun job, it will give you a lot of time for yourself and mentally can chill you out and relax especially in a company like this, it's been really lovely here at Civils & Lintels.