Sand, Gravels and Cement
A core component of any building project, whether you're laying the foundations for a new highway, car park or patio, you'll need the right sands and gravel for the job. Civils and Lintels access the country's broadest range of stone, gravel, MOT and sand, to supply aggregate and decorative landscaping products in bulk or mini bags.
Decorative gravels and chippings are popular for both commercial and domestic landscaped areas and driveways. These products are a classic choice, both to give visual impact and durability in gardening, and building projects.
INCLUDED IN THE RANGE
Civils and Lintels work with GRS and Cemex as well as regional suppliers to bring you a range of stone, sand, cement and gravel to suit any project
Our range includes: MOT, sharp, building and soft sands, an array of gravels both for decoration and construction, decorative stone, gravels, chippings and slate.
Concretes and mortars – We supply a range of dry concretes and mortars, ready-mixed for any small building or landscaping job. All products are easy to mix and use, and come in plastic, showerproof bags to extend the life of the product. The main products in the range are: Rapid-set post mix is suitable for use in fixing all types of wooden, metal and concrete posts when speed is critical. High-strength post mix, which achieves over 40N strength after 28 days. Can be used for all types of posts including wood, metal and concrete. Mortar mix creates a good workable mortar for brick and block laying, replacing crumbling mortar, pointing repair or maintenance. Pre-mixed concrete for all kinds of uses including steps, paths, driveway and paths, greenhouse and shed bases and general repairs.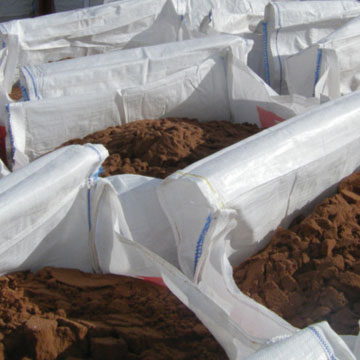 MOT Type 1 – The sub-base for pavements and roads; many jobs use this mix of recycled stone that contains anything from 40mm rocks down to dust size particles which makes it perfect for compacting. Available in bulk-bags, poly bags and lorry loads.
Ballast – Finer than MOT, this mix of sand and stone chippings of up to 20mm is often used to make concrete for the base of garden buildings or concrete floors.
Sand – A vital aggregate with a variety of uses, sand is graded by the size of the grains from grit to soft and varies in colour depending on the quarry location giving its variations from red to yellow or silver. Whether you need coarse or sharp sand for making concrete or laying paving or flagstones, building sand for plastering or mortar or silver sand for joint filling and white renders, you'll find we have what you need.
Welsh slate chippings – Slate chippings are often used for garden pathways, as mulch on borders between plants and elsewhere in gardens to inhibit weed growth and to keep moisture in the soil during warm spells. Slate is available in 40mm and 20mm sizes.
Pebbles and cobbles – Our Pebbles and Cobbles are sourced and processed in North East Scotland. We supply 20-30mm pebbles and larger 50-80mm cobbles. Cobbles and pebbles are perfect for brightening up any landscape all year round, adding a stylish and colourful finish.
Winter salt & grit – Keep pedestrians, motorists and customer's safe during winter by ensuring roads, footpaths and walkways are treated with salt or grit when snow or ice is forecast. Brown rock salt is versatile and is ideal for preventing ice on roads, car parks and pathways. Due to its colour brown rock salt is visible in the snow. White rock salt is a purer cleaner alternative to the more traditional brown rock salt, mostly used in areas such as offices, car parks, hospitals and schools.
Contact your local branch to chat about the aggregate needs of your project in any quantity.