Specialist Chemicals and Repair Mixtures
Whether you are repairing kerb, fixing a manhole or patching a road, you need products that work quickly and do the job properly, reducing repair time and the likelihood of reattending. Likewise, when preparing a sub floor even the best design and flooring materials will deliver a poor result if the sub floor is not properly prepared. We understand the importance of selecting the correct product for the job to get it right first time.
Included in the range
At Civils and Lintels we work alongside 2HK, Resapol, Instarmac and Bostik to provide a comprehensive range of building and specialist chemicals.
Our range includes self-levelling mortars, manhole levelling mortars and kerb repair mortars.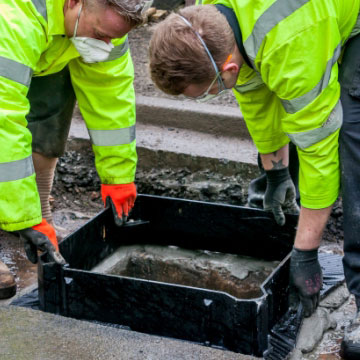 Instarmac Ultracrete M60 Mortar – M60 is a rapid strength bedding mortar for use with all access covers, as well as for the rapid bonding of granite setts and flags, emergency repairs and bedding of kerbs. This mortar is HAPAS approved and conforms to HD27/04. The mortar is approved for use on the London underground and overground and due to its rapid strength gain can be opened to traffic in 1 hour.
Instarmac QC10F Flowable Fast Set Concrete – QC10 F is a specifically formulated two-part polymer and fibre modified concrete for back fill around manhole frames and gullies and can also be used for surface repair. Due to its rapid set this product can be suitable for loads after 90 minutes.
Adawall Kerb Repair from 2HK – This Kerb Repair Mortar is a rapid hardening mortar for repairing damaged kerb stones. It is a fast setting permanent repair product, which, when water is added, gives a workable concrete grey compound which sets in 20 minutes, it can also be part mixed and in thicknesses of up to 30mm. This repair mortar needs no specialist skills or tools and only needs water to become permanent making it easy to mix and install.
Adawall Manhole Levelling Compound from 2HK – This compound has been specifically manufactured for the resetting of manhole frames, gully grids and other street ironwork. It has been developed in accordance with the recommendations of the Design Manual for Roads and Bridges HD 27/94, "Mortars for bedding ironwork". Once use the mortar quickly sets and can bear traffic loads after 1 hour and once fully set can hold 90N/mm2.
Bostik Sealoflor Super – This polymer modified self-levelling underlayment that can be used on internal concrete sub-floors and cement/sand screeds as a base for floor coverings. Suitable for internal and external use with underfloor heating. Available in 25kg bags the mortar is rapid curing and sets hard in about 2-4 hours and normally floor coverings can be laid in 16 hours.
Bostik Sealomix Powder – Sealocrete Sealomix powdered mortar plasticiser is an air entraining, spray dried polymer mortar plasticiser. This mortar is manufactured to confirm to EN934-3 standard and is packaged as 250 14g sachets. It improves workability of mortar, increases resistance to continuous freezing and thawing in the dried mortar, helping to prevent cracking and crazing. Ready to use, economical sachets reduce wastage and ensure the exact dosage rate is used for the application.
If you have a project that requires specialist construction chemicals our branches will be able to assist in sourcing the correct product.