Pole Housing and Retention Sockets
Pole housing units allow for the completion of groundworks before installation of streetlamps, traffic signals or signposts. Pole retention sockets come into their own following a collision, making for quick reinstallation of a new pole or post. Available with various options for duct entry such as where working at depth or with armoured cable. Developed with a retention mechanism for the permanent pole foundation, its isometric clamping action applies gripping pressure evenly, right around the pole.
INCLUDED IN THE RANGE
Civils and Lintels work with Cubis systems and Nal in the manufacturing of their centurion pole housing range.
Our range includes pole housing, signal pole boxes and the quick fit retention socket.
Centurion Pole Housing Unit – This unit has been specifically developed to assist in the installation of traffic signal poles and the removal or reinstatement of damaged poles. The Centurion Pole Housing Unit allows all civil engineering works to be carried out prior to pole installation, therefore improving continuity of operation and reducing labour costs and down time. The unit incorporates a unique adjustable raising section which allows the installer to reinstate around the pole leaving an aesthetically pleasing appearance and allowing easy access to install and remove poles as required. Due to the material composition of the raising section, it will withstand hot asphalt reinstatement without detriment to performance. This unit and the adjustable raising section is designed to accommodate 115mm diameter poles with variable planting depths ranging from 650mm to 700mm.
Centurion Signal Pole Box – This Pole Box incorporates the benefits and characteristics of the Centurion Access Chamber. As with the chambers, the Pole Box maintains its market position as a well tried and tested unit with specific design requirements to satisfy the highway directive for cover clearance over ducting laid in footpaths. The nature of the product and the installation process allows civil engineering work to be carried out ahead of pole installation. Sizes range from 290x275x640 to 450x450x500 to cover the majority of requirements and to ensure compatibility with the Centurion Access System.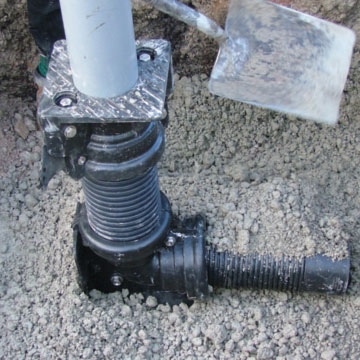 Quick Fit Retention Socket – This Retention Socket is manufactured from a mixture of thermoset moulding compounds allowing the unit to be robust yet lightweight. Manufactured in the UK the system is highly cost effective and conforms to manual handling regulations. The system is designed for use in the Traffic Signal Industry, as well as with illuminated poles and signs. Benefits of the system include its slim line profile, 100% non-rusting material, it allows for ducting to be connected from any direction and its twin cam-lock design resulting in no damage to columns.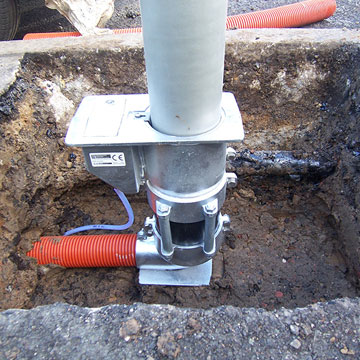 Nal Duckfoot Retention Socket – This socket system is a patented range of fittings designed to secure all types of directly cabled illuminated street furniture enabling easy removal after impact simply with a key and a spanner. Manufactured in cast steel or ductile iron and galvanised, it has a one-way duct bend offering 360-degree swivel and cable entry through the base of the post. These retention systems can be easily shortened on site and are suitable for applications such as traffic signals, illuminated signs, street lighting columns, electric charging posts and interactive signs.
If you are working on a project and require pole housing and retention sockets, contact your local branch.