Ducting Solutions
Flexible ducting is commonly used to protect underground utility cables and pipes. We service the complete needs of the industry and supply ducting in six colours corresponding to their use. Black for electrical services, blue for water pipes, yellow for gas pipe, green for telecoms, orange for street lighting and purple for motorway cables.
INCLUDED IN THE RANGE
Civils and lintels work with quality suppliers of ducting systems including Polypipe and Emtelle for all standard and specified works.
Our range of ducting solutions includes twinwall cable protection and solid wall uPVC ducting.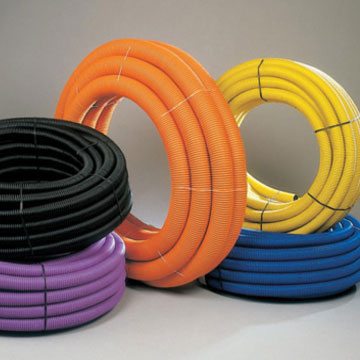 Ridgiduct – The Ridgiduct system is a twinwall cable protection system, specifically engineered to provide a light yet robust alternative to conventional cable protection. The system is manufactured from HDPE, designed with a smooth inner bore and ribbed outer. Benefits of the Ridgiduct system include its low weight, flexibility and durability. The system complies with BS EN 61386-24:2010 750N normal duty impact and is BBA and BBA HAPAS approved. Specifically designed for applications including power, motorway communications, lighting and utilities, the system is supplied in 6-meter lengths and available in a variety of sizes from 94/110mm to 300/354mm and a full range of fittings and accessories are available.
Ridgicoil – Ridgicoil is a coiled twinwall cable protection pipe, manufactured from polyethylene with excellent impact resistance even at low temperatures. It has exceptional durability with flexibility which eliminates the need for special bends. With a smooth bore, Ridgicoil has a low co-efficient of friction for ease of cable installation. The system is designed for use in motorway communications, power, lighting and utilities applications in 25m and 50m coils. Ridgicoil is highly impact resistant, easy to use and transport and complies with BS EN 61386-24:2010, 450N normal duty impact 23°c.
General purpose ducting – General purpose ducting is also available as a cost-effective alternative to higher specification systems, for use in light and medium duty situations. This system has integral sockets, bends, connectors, junctions and end caps are available.
PowerProtect+ Duct System – Emtelle's PowerProtect+ systems are specified and used by all major distribution network operators within the UK and Ireland and meets industry standard ENATS12-24. PowerProtect+ is a comprehensive range covering all possible cable requirements and includes solid wall PVC ducts, C2 twinwall ducts, PE duct coils, conductive duct and service duct. Systems are re-useable when cables are replaced or repaired, therefore maximising asset life and reducing further disruption to the roadways and footways.
To talk to us about any product or discuss a project, contact your local branch