Pre-cast concrete drainage
As stockists of concrete drainage, chamber rings, cover slabs and pipe from all the major suppliers we are able to offer a wide range of precast products suitable for surface and foul water applications. With the inherent strength and durability that concrete offers, we provide cost-effective products that allow for quicker installation on site, a host of health and safety benefits and a lower environmental impact.
INCLUDED IN THE RANGE
Civils & Lintels works with quality suppliers of concrete drainage including Stanton Bonna, FP McCann and CPM to bring you the best ranges both nationally and regionally.
Our range of precast concrete includes pipes, chamber rings and manhole systems.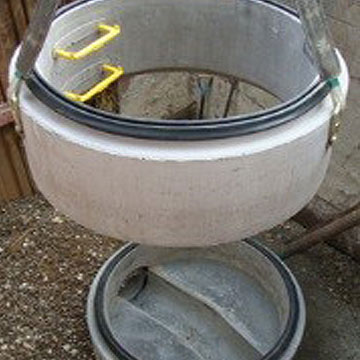 Concrete Pipes – Our products are manufactured in accordance with BS EN 1916 and BS 5911, and certified by Quality Assessment under the Kitemark Scheme and ISO 9001. We can also offer flexible jointed spigot and socket pipes from 225mm to 1800mm to BS EN 1916 and a range of pipe fittings that are produced and tested under factory conditions. Fittings are available for all sizes, including Rockers and Butt Pipes, Junctions and Bends.Manhole Systems
Watertight Manhole system – The Stanton Bonna and CPM Watertight Manhole System is a precast off-site solution which enables contractors to install a modular water tight manhole without the need for a concrete surround.
Easi-base manhole bases – This system from FP McCann is an extremely fast, efficient and economical method of constructing manhole bases on site that is WRc approved and accepted by all UK Water Companies.
Corbels and Adjusting Units – Designed to replace engineering bricks to seat a cast iron cover and frame these provide a compression strength similar to Class B engineering bricks. Corbel unit (600 x 600mm eccentric) for 750 x 600mm slab access. Adjusting units access sizes from 600mm x 600mm up to 1200mm x 675mm.
Gullies and Slabs – We provide an extensive range of gullies and gully cover slabs. Our road gullies and gully cover slabs are manufactured in accordance with BS 5911-6. Gullies can be supplied with adaptors for connection to clay and plastic pipes. Sizes include 375 x 750 up to 450 x 900. Gully covers available as a 'u' or square shape with 450mm access. Slabs are available in all ring sizes with various openings, including 600×600 and 675 x 675.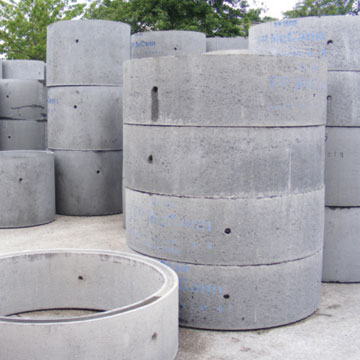 Traditional Chamber Rings – Available in various depths, we can offer a full range of traditional tongue and groove chamber rings that comply with BS EN 1917 and BS5911 from 900mm to 3000mm. Image from C&L Catalogue.
Sealed Chamber Rings – Available in 1200mm, 1500mm and 1800mm diameter the Perfect Manhole comprises of a monolithic precast concrete pre-benched base, a thicker wall chamber section a rubber joint and a sealed cover slab which is designed and manufactured to last a minimum of 120 years and offers up to 40% savings in greenhouse gases compared to traditional manhole construction and speeds up manhole construction.
To talk to us about any product or discuss a project, contact your local branch.