Gas and Radon Membranes
As part of the UK Government's commitment to increasing housing construction, they have launched several initiatives to streamline the remediation of brownfield sites for re-development.
Comprehensive ground gas protection systems are an essential part of preparing brownfield sites to prevent hazardous gases and contaminants from entering buildings and harming occupants. The level of risk is determined by the type and quantity of gas/contaminant present, the zoning of the site, and the type of construction proposed specifically the design of the floor, slab and substructure.
INCLUDED IN THE RANGE
Civils and Lintels supplies Visqueen gas membranes and Protech membranes from A Proctor group.
Our range of gas protection systems include Radon, CO2 and geomembranes, mats, tapes and adhesives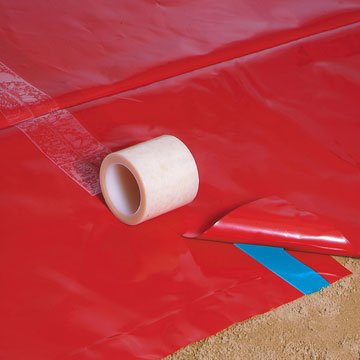 Visqueen Radon Membrane – Designed to protect buildings from the ingress of Radon gas and act as a damp proof membrane. Independently certified by BRE to meet UK building regulations in accordance with report BR 211. Manufactured from an enhanced blend of polymer films with high puncture and tear resistance. BRE certified and complies with CIRIA C665. Gas Membrane 2
Visqueen RadonBlok 600 – A higher specification membrane with excellent cold weather properties, specially formulated for easy & rapid welding with a unique soft membrane. RadonBlok is more than 100 times less permeable than typical high-performance polyethylene vapour retarders against methane, radon and other harmful VOCs.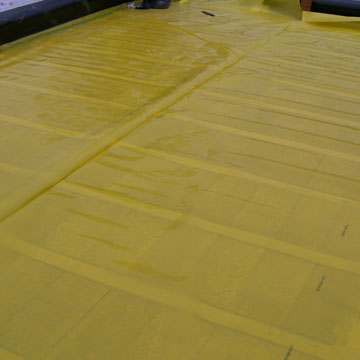 C02 Gas Membrane – A robust co-polymer thermoplastic construction Visqueen C02 gas membrane is yellow for ease of identification on site and provides ease of installation. This high-quality polyethylene membrane also acts a flexible damp proof membrane. Supplied in 4m x 12.5m rolls. BBA Certificate 13/5069 and CE Mark 13967:2012. Gas membrane 1
GX Geomembrane – Designed for brownfield sites that require protection from dangerous contaminants such as hydrocarbons and methane. A high-performance blend of ethylene co-polymers providing a HDPE layer that also acts as a damp proof membrane. High puncture and impact resistance, does not require protective screed or boarding when covered with reinforced concrete.
Protech Voc Flex Proprietary Gas Membrane – A high performance 6-layer chemical resistant reinforced VOC barrier designed and tested to provide maximum protection from an extensive range of dangerous contaminants including the 9 Challenge Chemicals in both liquid and vapour form. Protech VOC Flex has been designed to be extremely robust yet flexible for ease of installation and can be used in place of a DPM.
Protech Gm Super Proprietary Gas Membrane – A 1600g BBA certified reinforced LDPE membrane that incorporates a 12 micron aluminium foil layer for maximum protection against Radon, Carbon Dioxide and Methane. The membrane is flexible and extremely robust for ease of installation. Protech GM Super also provides sufficient damp proofing below the slab replacing the need for an additional DPM.
Protech Gm+ Proprietary Gas Membrane – A 1600g BBA certified reinforced LDPE membrane which protects against Radon and Carbon Dioxide according to current guidance. This membrane has superior tear resistance and is flexible for ease of installation. Protech GM+ also provides protection from damp removing the need for an additional DPM.
Protech Self Adhesive Gas Membrane (SAGM) – A self-adhering gas and waterproofing membrane for use in awkward detailing and vertical applications such as lift pits and stepped foundations, SAGM is suitable to provide protection against Radon, Carbon Dioxide and Methane.
Protech Liquid Applied Gas Membrane (LAGM) – A simple solution for complex detailing, LAGM is a single component acrylic modified liquid applied coating that provides protection against Radon, Carbon Dioxide and Methane, as well as waterproofing and damp proofing, once cured. LAGM bonds well to porous and non-porous substrates and can be applied with a brush, roller or airless spray.
Provoid Venting System – A single-sided crush-resistant geocomposite layer that provides a ventilated void or pressure relief pathway beneath floor slabs. Four thicknesses of Provoid are available and can be laid as a full blanket or in strips at predetermined centres depending on site requirements. Provoid T-Connectors, Provoid Gully Vent Boxes and other accessories are integral to the system's design and will help ensure ground gases are diluted to safe concentrations as per site requirements.
Talk to your local branch if your project requires gas membranes.