Gravel Retention and Grass Protection
Gravel retention systems are designed to prevent the dispersal and migration of gravel in pedestrian or vehicle traffic applications. Cellular grass protection systems are infilled with soil to promote grass growth. Both products provide a firm and free draining surface, which is SuDS compliant and eco-friendly.
Grids should not buckle or pull apart when subject to continuous and heavy weight use so various cell sizes are available depending on the application. Typical uses include occasional car parks, access lanes, caravan hard standing, paths, event areas, golf courses and residential pathways.
INCLUDED IN THE RANGE
At Civils & Lintels we work with Wrekin to bring you a comprehensive range of cellular gravel retention and grass protection systems.
Available ranges include ProtectaWeb and Cell Track.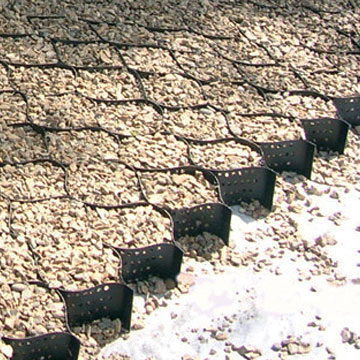 Wrekin Cell Track – This system is specifically designed to allow the development and extension of vehicular access areas in aesthetically sensitive locations. Manufactured with ease of installation in mind, Celltrack can be used with a variety of fill materials, allowing developers to build new access areas such as roads and car parks, which are both pleasing to the eye and consistent with the existing environment. Celltrack is a permanent panelled system that is virtually invisible once infilled. Designed for quick and easy installation, panels simply interlock together and incorporate small ground spikes which provide anchorage during installation. Celltrack can be in-filled with soil to promote grass growth or gravel to create decorative driveways and paths.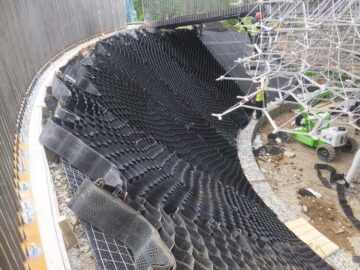 Wrekin ProtectaWeb – The ProtectaWeb slope stabilisation provides contractors with straightforward installation, even on steep banks and slopes. A perforated panelled system, ProtectaWeb is an incredibly cost effective solution for stabilisation and can reduce granular fill requirement by up to 50%.
Common fill materials can be used, even in locations of high load intensity. When infilled, ProtectaWeb provides a semi-rigid foundation.
Traffic loads are distributed laterally, reducing rutting and assisting in the retention of infill materials.
If you need gravel retention or grass protection products for your next project, contact your local branch.