Land Drainage Solutions
Excess water can lead to many problems for landowners and users – particularly in agriculture, but also in sports and leisure sectors. When excess surface water occurs, land gets restricted, crop yields reduce, soil erosion occurs as does the flooding and water logging of pitches. Effective drainage is therefor a critical component of any surface water management scheme.
Land and surface water drainage pipes come in either flexible singlewall coils or more robust twinwall pipes. These underground drainage pipes are perforated which allow surface water to penetrate, then transport it to a soakaway. Singlewall pipe provides quick and easy installation and is supplied in various lengths and diameters.
Manufactured in HDPE, Twinwall Drain has a smooth internal bore with a corrugated external wall, providing outstanding resistance from impact giving robust strength and durability.
INCLUDED IN THE RANGE
Civils & Lintels work with Polypipe to supply market-leading land and surface water drainage products suitable for civil engineering & agricultural uses.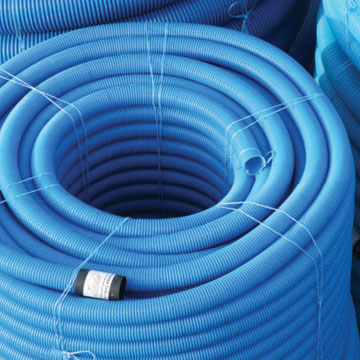 Landcoil – This range is designed to aid the successful management of land water and is manufactured from PVCu in a range of diameters and coil lengths. It offers significant improvements in areas where poor drainage negatively affects ground quality; from agricultural applications requiring enhanced soil conservation or crop production capabilities, to sports and leisure projects struggling with waterlogged sections of pitch or turf.
This cost-effective system offers perforated and unperforated options and a full range of pipes and fittings in sizes from 60-200mm, each coil is supplied with 1 coupler. Landcoil is flexible, durable and easy to install with blue systems Kitemarked to BS 4962.
To order pipe for your land drainage project, contact your local branch.