Channel and Driveway Drainage
Channel drainage systems drain along their entire length rather than just one particular point, these are typically variations of an enclosed channel with a U-shaped cross section and covered by a grate. The systems come in a variety of styles, from metre long polymer concrete units for private driveways to stainless steel units for commercial use, and sizes from 50mm deep units for roof draining to 250mm deep motorway drains.
INCLUDED IN THE RANGE
Civils and Lintels work with quality suppliers of linear drainage including ACO, to bring you the best ranges available for industrial, commercial and domestic driveway use.
Our range of linear drainage includes kerb drain, channel drainage and wetroom drainage systems.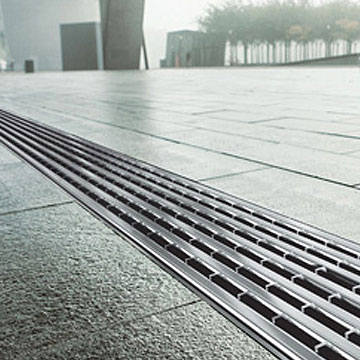 ACO Hexdrain – This driveway drainage system is manufactured from recycled polypropylene, suitable for a range of domestic applications. This high quality, high strength channel system is available in lightweight 1 metre units and its range of innovative features makes installing drainage channels easier than ever. Hexdrain is CE marked and fully certified to Load Class A 15 BS EN 1433:2002 and features easy fit end caps for both male and female connection along with a choice of eight vertical outlet positions on every channel.
ACO RainDrain – The system is CE marked and fully certified to Load Class A 15 BS EN 1433:2002 designed to provide surface water drainage for a range of domestic and light duty traffic applications including garage thresholds and pedestrian precincts. The benefits of RainDrain include its lightweight design for easy handling and installation, a sealant groove for simple watertight installation, its channel shape that anchors the system into concrete surround and its profile, which improves speed of water and promotes self-cleansing.
ACO MultiDrain – This strong and lightweight channel is suitable for both commercial and residential drainage applications; typically pedestrian precincts, landscaped areas, car parks and driveways. The system is available in sloping and constant depths in channel width of 100mm, 150mm and 200m, with gratings to suit many environments.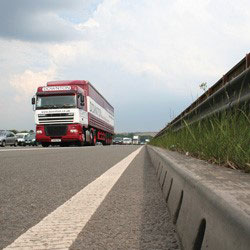 ACO S Range – The S range is manufactured from Vienite®, ACO's sustainable high strength material, designed to provide efficient removal of surface water in heavy duty applications. The system is available in four channel widths, 100mm, 150mm, 200mm and 300mm and is provided in constant and sloping depths for optimum performance and system design. Fully certified to BS EN 1433: 2002 Load Class F 900 its Integral cast iron edge rails provide maximum protection for the channel body. The system is suitable for heavy duty applications including aircraft pavements, ports and docks.
ACO KerbDrain – KerbDrain is an award winning combined kerb and drainage system specifically designed and developed to form an integral part of any modern, sustainable surface water management solution. The one-piece system is suitable for a wide range of applications including major and minor highways, it has a range of units to match HB1, HB2 and 45° splayed profiles, and a selection of depths and lengths to meet the hydraulic and performance requirements of many highway or drainage schemes. The system is independently certified and Kitemarked to BS EN 1433: 2002 and available in 255mm, 280mm, 305mm, 380mm, 405mm and 480mm depths.
ACO Building Drainage – We offer stainless steel barrier-free channel and gully drainage solutions suitable for applications both internally and externally and is predominently used in the construction of care homes, schools, commercial kitchens, hospitals and leisure centres. Grates are available for many types of flooring applications and a stylish appearance.
To discuss your drainage requirements and the right channel for any application contact your local branch.