Steel Lintels
Steel lintels are generally manufactured from pre-galvanised steel which is cut and either roll-formed or pressed into the required shape.
Compared to their concrete counterparts, steel lintels are lighter and therefore easier to handle on-site, this alongside its strength, durability, and ability to be recycled makes it truly compatible with long-term sustainable development.
The versatility of steel lintels means they can be custom-produced according to the specific building requirement, whether arched, in a corner, forming a bay window, and so on.
INCLUDED IN THE RANGE
At Civils & Lintels, we work with Harvey Steel Lintels, IG, Keystone, Birtley, and Catnic to provide a comprehensive range of lintels and sizes.
Our range of steel lintels consists of cavity wall lintels, solid wall lintels, eaves and timber frame lintels, archformers, and accessories.
Civils & Lintels partner all the major steel lintel manufacturers to bring you the most comprehensive range of lintels in the UK. We can help you find the right solution for your specific wall type or length of lintel that you require.
Standard lintels are available for typical residential and commercial construction, with heavy-duty variants available to support extra loads.
Whereas standard lintels typically support an inner leaf of 98mm, wide inner leaf lintels are also available for instances where you need to support an inner leaf of 125-150mm.
Similarly, wide outer leaf lintels support an outer leaf of 125-150mm, often used for stonework. Short outer leaf variants are also available to support outer leaves of 78mm, often used for head detail or cant bricks.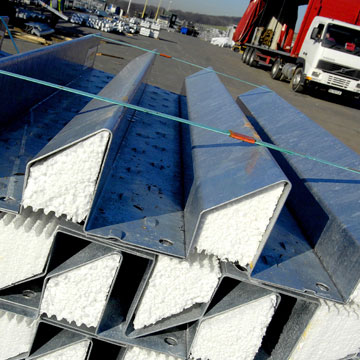 Rolled steel lintels are for extreme loading conditions. They are designed for wider openings and typically feature a red paint finish.
Eave lintels are designed specifically to have no load-bearing capacity on the outer leaf, taking the full load on the inner leaf.
Timber frame lintels are designed to attach directly to a timber frame, these lintels do not have an inner leaf and so are supplied with restraining clips.
Solid wall lintels come in three variants; single leaf lintels typically used above metre boxes. Internal and external solid wall lintels are used for several applications, available as boxed lintels in standard and heavy-duty variants.
Thermal lintels are up to five times more efficient than standard cavity lintels and are becoming a common method of achieving compliance with Part L and the Code for Sustainable Homes. These lintels typically have several features designed to minimise thermal bridging and are available for both standard and heavy-duty loads.
To get advice form the UK's leading lintel supplier visit www.lintels.co.uk or contact our sales team on 0845 450 7100