Meet the team – Frances Forbes
Categorised in: Company news | Posted on: 10 March 2021

10th March 2021

This week, to celebrate "International Women's Day", we're meeting some of the wonderful women that work here at C&L. Today we meet Frances.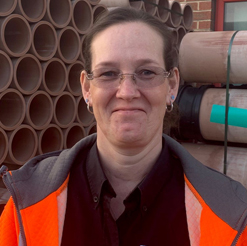 Job Title: Sales Admin Assistant
Location: London East depot
Length of Service: Started in 2015
What does your role involve?
I am an admin assistant in Civils & Lintels. Mainly, my role involves dealing with replying to queries and liaising with our admin hub regarding deliveries as I also deal with goods in. It is all about teamwork, everybody works together here.
What do you like about your role? What gives you job satisfaction?
Job satisfaction for me is when everything goes according to plan and there are no major issues for the customer. The more I'm learning the more job satisfaction I am getting. I feel like I'm getting somewhere, and it is really nice!
How did you get to your position? Any advice for others?
I started this job, part time doing admin and as there was always something more to do, I have increased my hours since. The advice I would give would be – go for it! – start in the office would be my recommendation, learn the processes and paperwork side and then move to the "out" part of the business. I wouldn't be put off getting into the construction sector if you are female!
What do you like about C&L?
It is a family; I really feel like that. You interact with your colleagues the same as you do with family and that is the same when you interact with the other depots. Everyone is together, it is really inclusive. I feel that I am included even more with the new Workvivo platform. From admin to MD, everybody interacts, and everybody feels included.
How can diversity help an organisation such as C&L?
Working with different types of people means everybody brings something different to the team. Everyone has got a different point of view and you can often get a new idea from a different perspective.
How do you feel working in a male dominated environment?
It is normal for me, I have never felt at a disadvantage, I've always been treated with the utmost of respect. I feel very comfortable working in this environment so wouldn't put anyone off working in the construction industry.