Stoke depot donates to local College
Categorised in: Charities | Posted on: 3 March 2021

3rd March 2021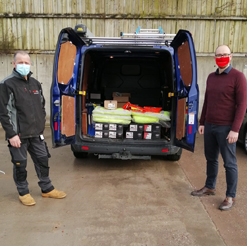 We're a community spirited bunch here at C&L, not only do we donate products to local colleges, give up our precious weekends to help with local charities, but recently the team at C&L Stoke have donated some safety clothing, including high vis jackets and safety boots and trainers, to Newcastle-under-Lyme College.
Emma Gornall, our admin and Sales support extraordinaire, had the idea to offer the donation and made contact with the Head of the Construction department at the college. Although there are currently no students attending the College they welcomed the offer of the donation and are sure it will be appreciated by those students who wouldn't ordinarily be able to afford the equipment.
Safe arrangements were made for the items to be collected, and a very grateful member of the college drove off with a van full of items that will save the students around £500!
Great idea Emma!